Education
MA Professional Counseling Psychology, John F. Kennedy University
BS Business Finance, San Jose State University
Professional Activities and Memberships

Member of California Association of Marriage and Family Therapists (CAMFT), National Alliance on Mental Illness (NAMI)
*Specialization In Child & Adolescents Certificate from John F. Kennedy University
*Level 2 Gottman Training for Couples, CBT & ACT Training
*Art & Sand Tray Therapy Training
License MFC #50392
Author of "Sam Tackles His Feelings, Superpower Tools For Life"
The link above will take you to Amazon.com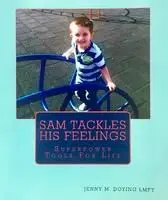 I am also located on:
Psychology Today & Good Therapy

Jenny M Doying , Licensed Marriage and Family Therapist Counseling Teens, Individuals and Couples, and maintains a private practice in Livermore, California.
With over fifteen years experience as a Marriage and Family Therapist, I bring with me my personal experience of raising a family with my husband of 40 years. I have volunteered my time working with Youth and Victims of Domestic Violence. I am currently serving as a private practitioner working with a broad spectrum of clients, including Couples, Adults and Teens & Tweens. My areas of expertise include:
Supporting Individuals and Couples in times of Distress.

Working with Couples to enhance their Relationship.
Helping Couples develop boundaries with extended family.
Helping Young Adults transition to Independent Living.
Working with Teens, Tweens and Adults to promote Wellness and Self-Worth.
Supporting Grief and Life Change.
Developing Strategies to overcome Anxiety and Depression.

Supporting Spouses, Parents and Siblings of the Mentally Ill.
I am an interactive, eclectic Therapist. My Therapeutic approach is to provide support and practical feedback to help clients effectively address personal life challenges. I integrate complementary methodologies and techniques to offer a highly personalized approach tailored to each client. With compassion and understanding, I work with each individual to help them build on their strengths and attain the personal growth they are committed to accomplishing.

"If we have no peace, it is because we have forgotten that we belong to each other." Mother Teresa